Monsgeek MG108W DIY Kit
PCB Orientation:
North-facing PCBa
In stock
Please enter your email in the "Notify me when available" field if the product model is out of stock.
Monsgeek MG108W DIY Kit South-facing PCBa can be pre-purchased only, or the dispatch will occur at the specified time for another reason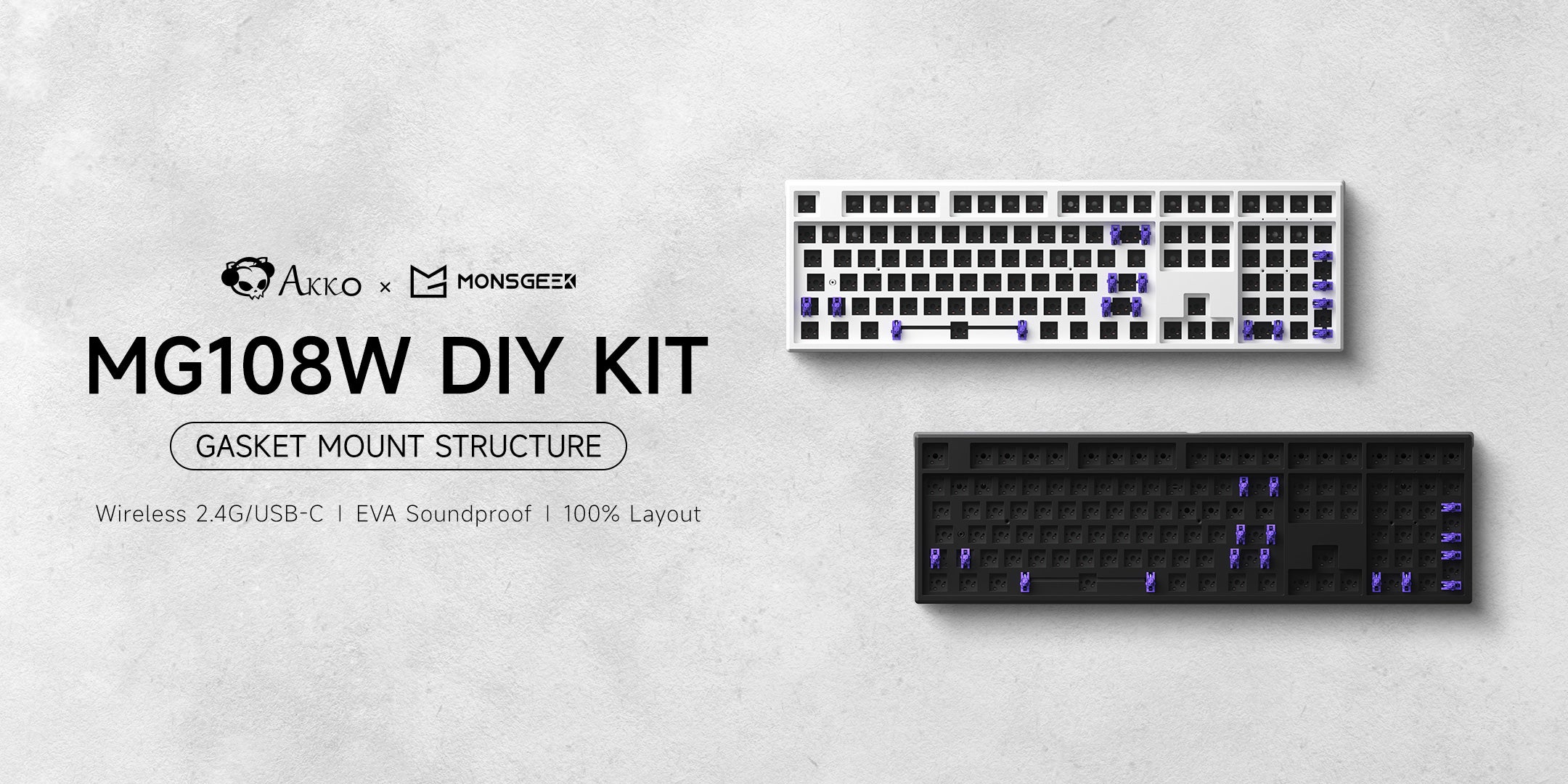 Features
- Compact 100% layout with 108 key arrangement
- Dual-Mode Connectivity(Wired USB Type-C+Wireless 2.4GHz)
- Hot-Swappable PCB Sockets
- Full-Key Conflict-Free Operation
- Built-in Sound-Absorbing Layer
- New Akko TPU Double Shot Plate Mount Stabilizer
- Two-Level Adjustable Feet
- Battery Life:500mAh
- Classic Color Options
Specifications
Versatile Dual Mode Connectivity:
Monsgeek MG108 keyboard kit supports connection with a wide range of devices with its dual-mode connectivity. It supports wired connectivity with USB Type-C connection and Wireless connectivity with high-speed wireless 2.4GHz connectivity.
Full-Key Hot-Swappable Sockets:
With hot-swappable sockets, the Monsgeek MG108 keyboard allows you to easily complete your keyboard. The kit supports both 3-pin and 5-pin switches, making it compatible with most mechanical switches in the market. No need for any kind of soldering, simply connect or replace your switches on the MG108 Kit.
Sound-Absorbing Foam Layer & Large Key Stabilizer:
Monsgeek MG108 Kit has got smooth typing feedback. The kit is designed with a sound-absorbing foam padded layer. It also absorbs pressure exerted on the keys, you get a smooth and easy typing experience with the MG108 Kit. For large keys, the kit is equipped with finely-adjusted stabilizers.
General

Burning

AKKO Monsgeek

Type

DIY Kit Barebone Keyboard

Model

MG108W

Number Of Keys

108-Key

Color

White/Black

Product Details

Structure

Gasket mounted

Interface

Wired USB Type-C+Wireless 2.4GHz

Backlit

N/A

Hot swappable

Yes

Case Material

ABS

Battery Information

Battery

500mAH

Dimensions and Weight

Stabilizer

New Akko TPU Double Shot Plate Mount Stabilizer Equipped

Product weight

Approximately 1.15 KG

Package weight

Approximately 1.5 KG

Package size (LxWxH)




Package Contents

Package Contents

1 x kit, 1 x USB-C cable, 1 x receiver, 1 x manual
Shipping Notice Updated:
The final cost of your order will be calculated at checkout as VAT rates and shipping options vary for different destinations.
Duty and taxes are traded by Akko before Shipping;
We reserve 48 hours to process orders. Shipping times depend on the shipping option chosen.
The estimated times stated below are not 100% guaranteed. An international package could experience delays like postal strikes or severe weather or Cov-19 situation.
*For most countries, we will ship by 4PX Express within 10-15 business days in most cases;
Country
Courier Service
Estimated Time
Germany
CNE/4PX
8-12 business days
Netherlands

CNE/4PX

7-10

business days

Italy

CNE/4PX

8-12

business days

France

CNE/4PX

7-10

business days

Austria

CNE/4PX

8-12 business days

Spain

CNE/4PX

8-12 business days

UK

CNE/4PX

8-12 business days

Portugal

CNE/4PX

8-12 business days

Poland

CNE/4PX

8-12 business days

Belgium

CNE/4PX

7-10 business days

Denmark

CNE/4PX

8-12 business days

Luxembourg

CNE/4PX

7-10 business days

United Arab Emirates

CNE/4PX

8-12 business days

Finland

CNE/4PX

7-16 business days
Tracking Links:
https://www.17track.net/en
https://www.cne.com/English/
https://track.yw56.com.cn/en/index
* If you don't receive your order within the estimated time frame provided below and suspect that it might be lost in transit, please contact Akko de Support ( support-de@akkogear.com ) and we can look into the order with the courier. Lost-in-transit requests must be submitted to Akko de Support within 1 months of the date of shipping or before the courier archives the tracking information.
TASTATUR
1. Werden die verkauften Tastaturen oder Tastenkappen-Sets mit einem Tastenzieher geliefert?
Alle auf unserer Website verkauften Tastaturen werden mit einem Tastenkappenabzieher geliefert. Wir können jedoch nicht garantieren, welche Art von Tastenkappenabzieher Sie erhalten, da dieser von Charge zu Charge variieren kann. Das Neon-Tastenkappen-Set hat einen Tastenabzieher.
Das R2 kompletter Tastenkappen-Set hat je nach Charge möglicherweise keinen.
Hinweis: Nur das Akko R2 Phantasie Tastenkappen-Set wird mit dem vorgesehenen Katzenpfoten-Tastenabzieher geliefert.
2. Wie kann ich feststellen, ob die Tastatur Bluetooth, kabelgebunden oder kabellos ist?
Sie können dies auf unserer Website in der Produktauflistung prüfen. Es wird auf der entsprechenden Produktdetailseite unter dem Reiter "Spezifikationen" angezeigt. Die Akko 3084-One Piece Chopper ist zum Beispiel eine kabelgebundene Tastatur. Sie verwendet eine USB-C-Schnittstelle.
3. Unterschied zwischen Nordic und Beken Lösung für Akko Multi-Modi Tastaturen.
Chip 

 

Beken

Nordic

RGB-Hintergrundbeleuchtung

Hell

Leicht gedämpft

Leistungsaufnahme

Hoch

Niedrig

Batterielebensdauer (2 Stunden/Tag)

7-10 Tage

15-20 Tage

2,4 GHz-Empfänger

Lila

Schwarz

Verbindungsmodi

Bluetooth 3.0, Bluetooth 5.0, 2,4 GHz, USB Typ-C

Bluetooth 5.0, 2,4 GHz, USB Typ-C

Makro

Akko-Treiber (ESC/links Win/rechts Alt/Fn kann nicht programmiert werden)

Akko-Treiber (ESC/links Win/rechts Alt/Fn kann nicht programmiert werden); Benutzer können auch Tasten über Akko Makro v1 programmieren, ohne den Treiber zu verwenden
4. Welche LED-Lampen sollte ich wählen, wenn ich meine mechanischen Akko-Tastaturen mit LEDs ausstatten möchte?
Bei einigen unserer Modelle sind die LEDs nicht von Haus aus installiert. Für diese Tastaturen ist es möglich, LEDs zu installieren, um die Hintergrundbeleuchtung zu nutzen.
Wir empfehlen die Verwendung der folgenden zwei Arten von LED-Lampen (Dioden):
3 mm runde LED-Lampen
2 x 3 x 4 mm quadratische Kopf-LED-Dioden.
Annehmbare Spezifikationen:
Spannung: 1,8-3,6 V; 
Stromstärke: weniger als 500 mA.
Beachten Sie, dass Sie nur einfarbige LED-Dioden wählen können. Wenn Sie RGB-LED-Dioden wählen, wird es nur rote Farben ausstrahlen.
TASTENKAPPEN
Akko Tastenkappen Profilvergleich.
Die nachstehende Tabelle dient zum Vergleich verschiedener Tastenkappen, einschließlich OEM, Cherry, JDA, OSA und ASA.
Die Einheit ist in mm:
VERSAND 
Welche Versandarten sind verfügbar?
Derzeit bieten wir Standardversand für alle Produkte an. Wenn Sie Ihren Auftrag schneller erhalten möchten, wählen Sie bitte die Schnellversandart.
Wie lange wird die Lieferung dauern?
Unser Ziel ist es, Ihnen die besten Versandoptionen anzubieten, unabhängig davon, wo Sie wohnen. Wir beliefern täglich Hunderte von Kunden in der gesamten EU und bemühen uns, Ihnen einen Service auf höchstem Niveau zu bieten.
Der Zeitrahmen für die Lieferung eines Auftrags ist in zwei Teile unterteilt: Bearbeitungszeit und Versandzeit. Bearbeitungszeit dauert in der Regel bis zu 48 Stunden. Versandzeit variiert je nach den verschiedenen Versandarten für jede Produktkategorie. Die Versandzeit hängt von der von Ihnen gewählten Versandart ab. 
*Für die meisten Länder erfolgt der Versand über 4PX Express in den meisten Fällen innerhalb von 10-18 Werktagen;
*Bei einigen Lieferungen kommt es aufgrund der anhaltenden COVID-19-Herausforderungen und deren Auswirkungen auf unsere globale Lieferkette zu Verzögerungen.
Die Kosten für die einzelnen Versandarten entnehmen Sie bitte den endgültigen Arten, die bei der Zur-Kasse angeboten werden.
Wenn Sie Fragen zur Lieferung von Aufträgen in eine bestimmte Region haben, wenden Sie sich bitte an support-de@akkogear.com!
Welche Art von Verpackungsmaterial verwenden Sie?
Wir sind bestrebt, wann immer möglich umweltfreundliche Verpackungslösungen zu verwenden. Wir verwenden luftgefüllte Kissenbeutel, die effizient in die Versandkartons passen und die Menge des für jeden Auftrags benötigten Verpackungsmaterials verringern. Außerdem verwenden wir 100 % biologisch abbaubare Stärkepellets als Verpackungsmaterial. Diese statikfreien Pellets sehen aus wie die altmodischen Verpackungserdnüsse aus Plastik, sind aber so beschaffen, dass sie sich auf der Mülldeponie schnell zersetzen und frei von Erdöl, FCKW und HFCKW sind.
Ich habe keine Auftragsbestätigung erhalten, was soll ich tun?
Bitte überprüfen Sie zuerst Ihren Spam-Ordner! 
Nach der Bestellung sollten Sie automatisch eine E-Mail mit einer Auftragsbestätigung erhalten (in den meisten Fällen). Wenn Sie jedoch keine Auftragsbestätigung erhalten haben, bedeutet dies nicht, dass die Bestellung nicht zustande gekommen ist - sie ist in unserem System registriert und wird ohne Probleme bearbeitet. 
Die wahrscheinlichste Erklärung ist, dass andere, die zur gleichen Zeit bestellt haben, für den SMTP-Server ein kleines Kommunikationsproblem verursachten. Um Ihre Auftragsbestätigung erneut zu erhalten, wenden Sie sich bitte an support-de@akkogear.com. 
Sie können auch Ihr Konto benutzen, um den Auftragsstatus in den Kontoinformationen zu überprüfen.
In welche Länder/Regionen liefern wir?
Wir liefern in die meisten Länder. Sollte das von Ihnen gewünschte Land bei der Zur-Kasse nicht aufgeführt sein, wenden Sie sich bitte an support-de@akkogear.com. Wir werden unser Bestes tun, um eine zuverlässige Lösung für die Lieferung in Ihr Land/Ihre Region zu finden.